Fish & Seafood Cookery Class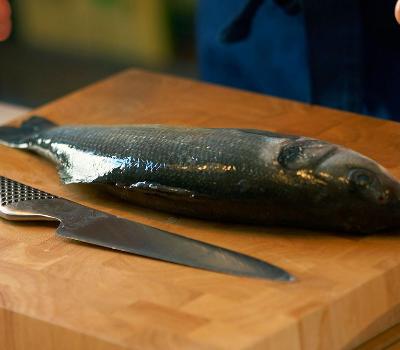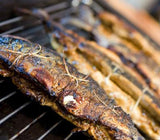 Select a class from the dropdown list below (please double check the date before booking):
Buying this as a gift? Add the recipient's details in the notes at the checkout.
You can download and print our gift card certificate and fill in the details to give something tangible. Please note we don't send out anything in the post, it is all digital.
Don't know whether they'll be able to make the date? Why not look at our
Gift Cards
page?
Ts & Cs apply, please read the checkout page fully.
Fish & Seafood Cookery Courses
As much as people love fish, many of us lack the confidence to deal with both the preparation required and the best techniques for cooking it.
Let us show you how to choose the freshest fish from your local fish market, fillet it with expertise and create delicious seafood & fish recipes step by step guided by our friendly expert teachers.
In this fish and seafood class you will be preparing a colourful and flavour-packed fish and seafood feast which you will dine on at the end of the class, accompanied by free flowing wine.
---
Got a voucher for my birthday and booked the fish course at Food at 52 and I couldn't recommend it enough!
Great, relaxed atmosphere, amazing teachers and wonderful food! I went on my own but was made to feel very welcome! Very personal, not corporate. Loved every minute!
Christina L, TripAdvisor
---
Skills covered in this course
Learn how to fillet a fish
Find out how to confidently cook a large variety of different kinds of fish and seafood like round fish, flat fish, squid and jumbo king prawns
Know how to buy seafood straight from the fish market
In addition to honing your knife skills and familiarising yourself with a variety of fish and seafood, you'll discover new flavours and will leave with the confidence to host any pescatarian at a dinner party.
---
What a great experience, learnt how to fillet fish and prepare seafood, was fantastic from start to finish, cannot recommend this cookery school highly enough, factual learning in a relaxed fun scenario... go go go!
bpummell1, TripAdvisor
---
Sample menu
Pan fried seabream with hollandaise sauce and samphire
Stuffed Goan mackerel recheado with lemon rice and kachumber salad
Bouillabaisse with Pernod and orange with garlic aioli croutons
Like all our London hands-on cookery classes, our Fish & Seafood cooking courses include all food, equipment, and unlimited specially selected red and white wine and soft drinks. In this fish and seafood cookery class, you will cook around our oak banquet table and enjoy eating all your dishes together in the most sociable way in London. Check out our TripAdvisor page for reviews.
To check whether this class is suitable for you, please see our Dietary Preferences and Allergens page - even if we stay it can be made suitable, please do always still let us know your dietary requirements or allergies when booking.
Join us for a full day of fish and seafood cooking
Because of the strong emphasis on skill building, our fish and seafood cooking classes are longer than our usual classes. They're usually hosted on Saturdays and finish around 4:30.
---
I was bought the fish cookery course for Christmas by my husband. It was THE best Christmas present ever. My husband does most of the cooking and whilst I like cooking, I totally lack confidence when it comes to anything above curries, casseroles and one pot meals.
This course entirely changed my approach to cooking. It didn't just give me confidence with fish but that newly acquired seeped through into everything I do in kitchen. I have sent him a subtle hint that I'd like another Food at 52 course this year.
Besides learning a tonne of new skills, I also had an absolutely fabulous day. It was great fun, with wine and chat flowing, great food to make and eat. I just cannot recommend a course here highly enough. The group of people I was with were really mixed ability; from me, shaking with nerves at the idea of having to fillet a fish to people who clearly take their cooking skills very seriously.
Laura C, TripAdvisor
---