Indian Street Feast Cookery Class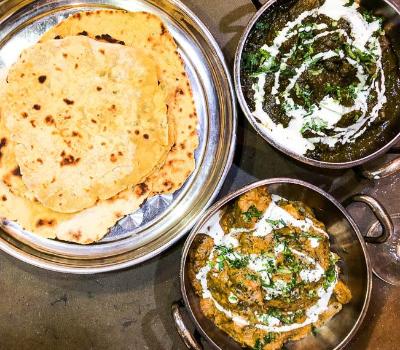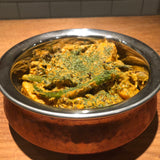 Select a class from the dropdown list below (please double check the date before booking):
Buying this as a gift? Add the recipient's details in the notes at the checkout.
You can download and print our gift card certificate and fill in the details to give something tangible. Please note we don't send out anything in the post, it is all digital.
Don't know whether they'll be able to make the date? Why not look at our
Gift Cards
page?
Ts & Cs apply, please read the checkout page fully.
Indian Street Feast Cookery Courses
Developed in response to the popularity of our Southern Indian class, spice-loving foodies continue their Indian cooking course journey that is colourful feast of curry flavours. De-mystify more famous dishes & discover new favourites that are oh so simple to create and yet mouthwatering to feast upon.
Learn how to make your favourite Indian takeaway recipes even tastier and more authentic with quick and easy techniques. From a fragrant chicken dish with curry leaves and fresh mint, and flavoursome saag paneer through to rarely seen Indian canapé ideas. In this cooking course we'll guide you step by step through making an Indian street feast with a Northern flavour.
You'll learn how to master Indian street cooking with all its entrancing curry flavours and vibrant and spectacular colours. With a broad range of authentic Indian ingredients readily available in London, to achieve fantastic results, the cooking style is surprisingly simple.
Create fun and interactive canapés the likes of which you may never have seen before with pani puri stuffed with chickpeas and served with your own freshly made mint juice. Also enjoy the accompaniments of pilau rice to mop up the flavoursome curry sauces and chutneys.
Book several classes with us and make your own flexible cookery course!
See our suggestions of which classes go well together.
Sample menu:
Pani puri with chickpea stuffing with herb water
Lamb hariyali kebab
Saag paneer
Curry leaf chicken
Cumin pilau rice
Like all our London hands-on cookery classes, our Indian Street Feast cooking courses include all food, equipment, and unlimited specially selected red and white wine and soft drinks. You will cook around our oak banquet table and enjoy eating all your dishes together in the most sociable way in London. Check out our TripAdvisor page for reviews.
To check whether this class is suitable for you, please see our Dietary Preferences and Allergens page - even if we stay it can be made suitable, please do always still let us know your dietary requirements or allergies when booking.
Want more classes like these?
Have a look at our Southern Indian cooking class where you'll learn to master the region's entrancing curry flavours of coconut, curry leaves and mustard seeds. Please note in comparison to our other classes this one has reduced complexity, showing that Indian food doesn't need to be hard to make.