Vegetarian Flavours of the World Cookery Class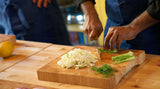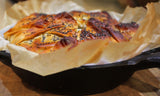 Select a class from the dropdown list below (please double check the date before booking):
Buying this as a gift? Add the recipient's details in the notes at the checkout.
You can download and print our gift card certificate and fill in the details to give something tangible. Please note we don't send out anything in the post, it is all digital.
Don't know whether they'll be able to make the date? Why not look at our
Gift Cards
page?
Ts & Cs apply, please read the checkout page fully.
Vegetarian cookery courses
Expand your vegetarian cooking repertoire with this five dish vegetarian cooking course with global flair.
Master meat-free cooking, learn new tasty and inspirational vegetarian recipes and make entertaining veggie friends at dinner a breeze.
We will be taking inspiration from culinary influences from around the world to put flavour, textures and colour into your veg repertoire. Let us show you how spices can transport a dish to a new level.
---
Great cooking class with lovely people and amazing food!
I attended the Vegetarian evening cooking class. Emily and Ben were great teachers, skilled, warm and full of great tricks that I can't wait to replicate to my girlfriend's amazement! Recipes were original ones but inspired by different parts of the world, which made the lesson more interesting and the final food surprisingly delicious. Plus, free flow wine was the cherry on top for a perfect evening. Attendees were lovely and the whole experience was great. Will be coming back for an Italian class in 10 days, and I honestly can't wait.
Pierfra73, London TripAdvisor
---
Whatever your reason, we'll have you veg-savvy in a few hours!
Lacking inspiration when cooking vegetarian food? Want to impress your vegetarian friends when they come for dinner? Looking to include more plants in your diet? Or simply seeking to expand your repertoire with vibrant global but meat-free recipes?
Book several classes with us and make your own flexible cookery course!
See our suggestions of which classes go well together.
Sample menu
Each vegetarian cooking class will take you through a delicious starter, main with salad and tasty dessert.
Fragrant Thai beetroot soup
Double greens and Greek feta filo pie
Roast cauliflower and pomegranate salad with dukka
Almond, orange and cardamom polenta cake
Like all our London hands-on cookery classes, our Vegetarian cooking courses include all food, equipment, and unlimited specially selected red and white wine and soft drinks. You will cook around our oak banquet table and enjoy eating all your dishes together in the most sociable way in London. Check out our TripAdvisor page for reviews.
To check whether this class is suitable for you, please see our Dietary Preferences and Allergens page - even if we stay it can be made suitable, please do always still let us know your dietary requirements or allergies when booking.
---
Gorgeous vegetarian food
I tried the vegetarian flavours of the world course and it was great - a lovely atmosphere, very friendly and helpful staff, generous wine and cosy and inclusive cooking, and of course, wonderful food! Can't wait to go back!
Helen P, TripAdvisor
---
Looking for more vegetarian-friendly cooking courses?
Did you know our Thai, Vietnamese and Southern Indian courses can all be easily adapted to make them meat-free? Just let us know about your preferences when you're making a booking and we'll take care of the rest.
---
I'm not a vegetarian but I have lots of veggie friends and I wanted inspiration for some tasty new dishes to add to my repertoire.
The dishes were fun, delicious and, dare I say it, not too complicated - so I'm feeling pretty confident about recreating them myself at home tonight.
As well as the fab food, one of the best things about the course was the atmosphere and bonding with my fellow chefs (who were also non-veggies in the main). It was a lovely evening in gorgeous, quirky surroundings and I learned a thing or too as well - perfect! I'd happily recommend this course to everyone interested in learning to cook interesting, honest and tasty food. And did I mention the free-flowing wine…
Natali W TripAdvisor