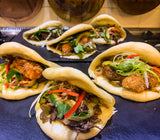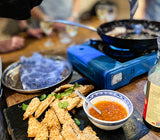 Select a class from the dropdown list below (please double check the date before booking):
Buying this as a gift? Add the recipient's details in the notes at the checkout.
You can download and print our gift card certificate and fill in the details to give something tangible. Please note we don't send out anything in the post, it is all digital.
Don't know whether they'll be able to make the date? Why not look at our
Gift Cards
page?
Ts & Cs apply, please read the checkout page fully.
Bao Cooking Class
Originating from Fujian China, Bao is a staple street snack in Taiwan, Singapore and Korea. Bao, meaning bun (hence the incorrect term "Bao Bun" literally meaning "Bun Bun") has hit our capital with a storm.
The soft white bao is at wonderful odds with a variety of fillings such as crunchy panko chicken or sticky shredded hoisin duck. Then comes the tangy crisp sweet and sour pickled cucumber to add even more contrast.
Perfecting your dough making skills is key part of this fun class that you will recreate time and again at home from mid-week suppers to dinner parties.
Sample menu:
Prawn toast with sweet chilli dipping sauce
Bao with:
Panko chicken (or sweet potato)
Shredded Hoisin duck
Sweet and sour pickled cucumber
Like all our London hands-on cookery classes, our Bao cooking courses include all food, equipment, and unlimited specially selected red and white wine and soft drinks. You will cook around our oak banquet table and enjoy eating all your dishes together in the most sociable way in London. Check out our TripAdvisor page for reviews.
Please note these classes are not suitable for adapting to different dietary requirements such as gluten free and vegans. Please email or call before booking if you have dietary requirements or allergies to check it is suitable.
To check whether this class is suitable for you, please see our Dietary Preferences and Allergens page - even if we stay it can be made suitable, please do always still let us know your dietary requirements or allergies when booking.