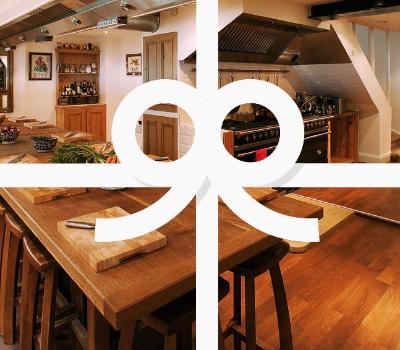 Select a class from the dropdown list below (please double check the date before booking):
Buying the gift card for someone else? Enter YOUR details at the checkout (including your OWN email address) and we will send you an email you can forward to the lucky recipient when the time is right. When they book they can add their dietary requirements. They can check that a class suits by going
here
. We won't need the recipient's details now, they can add those when they book for a class.
You can download and print our gift card certificate and fill in the details to give something tangible. Please note we don't send out anything in the post, it is all digital. Ts & Cs apply, please read the checkout page fully.
Please see this page for our latest COVID-19 update.
Our Cooking Classes Make Excellent Gifts!
You really can't go wrong with a Food at 52 cookery course gift card.
Our cookery gift vouchers not only guarantee a memorable fun night out (or day out) cooking and eating a delicious feast accompanied with great wine, it also develops cooking skills that will last a lifetime.
---
Just brilliant!
I received a gift voucher for Food at 52 as a Christmas present from my husband. I love to cook, love food, love learning about it, so the gift was spot on.
NatnArfur, TripAdvisor
---
Cookery Experiences For All Skill Levels
Our cooking classes are the perfect present for seasoned and aspirational foodies alike.
When you buy a Food at 52 cookery gift voucher the recipient can choose from any of our global cooking classes to broaden their repertoire or they can use your gift to hone their skills on our three part Kitchen Basics cooking course.
---
I am a professional chef and received a voucher for this fantastic Cookery School as a birthday present. I had a great day... the atmosphere couldn't be any better, top quality ingredients and equipment... I can't recommend this cookery school enough.
Bita, Google Review
---
Buying Our Cookery Course Gift Cards is Easy!
You decide on the value from the drop-down menu above.
Simply add the item to the cart, along with anything else, and pay at the checkout.
Send the voucher to the lucky recipient.
If you want to print something out click here.
The recipient then has 12 months to make a booking for a cooking class or course with Food at 52. They won't, however, have to attend the cooking class(es) within those 12 months (as long as the reservation is made before the expiry date). They cannot be extended. 
The Perfect Gift for Couples, Singles, Students and Parties
Our cooking experience gifts work for just about anyone.
They're a popular and fun alternative engagement gift and make great wedding and anniversary presents too.
It's not just for couples. Single friends will love the relaxed and interactive atmosphere of our cooking classes. It's a great way to meet people as you all cook together in groups - everyone is included, no backs to anyone.
We regularly welcome students whose relatives have bought them a cooking course experience as a parting gift before going off to university or to help them settle into living on their own for the first time and finally tackling that stove or oven.
---
Fantastic Gift for a Birthday Treat
Took our 30 year old Son for the Thai Cooking Course as a surprise birthday present. All of us despite the age differences could not fault the experience. A lovely friendly, educational, relaxing, fun, and informative day... Made friends, laughed lots and got to make and eat fantastic quality food.
Chezla, TripAdvisor
A good solo activity
Decided to have a go at this cookery class by myself and did not regret it. Met some lovely people, the teachers were very welcoming and helpful and the kitchen itself was stunning...
Rosiita, TripAdvisor
Fantastic experience
I booked in on the fish course after getting a gift voucher for my birthday. I rarely effuse praise but this cookery course was absolutely brilliant! I was a little apprehensive arriving on my own but the environment (assisted by ample amounts of wine) was very laid back & all the other guests were friendly & by the end it felt like eating at a dinner party...
Richard H, TripAdvisor
---
Popular Cooking Experiences
Whilst the choice of cooking course is completely up to the recipient, these are some of our most popular cooking experiences:
Choose your own adventure
Travel the world: spend on an evening course exploring international cuisines like Thai or Moroccan.
Learn to fillet a fish!
On our popular Fish and Seafood class.
Cooking Courses: The Gift That Keeps on Giving
Not only will you be giving someone a great day out with our cooking course gift cards, but there's a good chance that the friend or loved one you're treating to this experience will eventually invite you over for dinner to show off their new cooking skills.
Everybody wins!
---
Tonight I'll be cooking up a delicious chard and kale feta & filo pie with a side of courgetti with green olives and burnt lemon dressing - two of the fab recipes I learned on the Veg Flavours of the World cookery course at Food at 52 last week.
Natalie Wain, Google Review
---
Have a special request or any questions? We're always happy to help. Send us an email.
Special Request
The fine print: Please note there are no refunds. Gift vouchers are only valid for 12 months from the date of purchase. That means a booking needs to be made within this period but can be attended after the expiry date. There is no option to extend. Date changes allowed free of charge if made more than 28 days from the class date. Between 28 days - 14 days changes will incur a £25 per person fee. Within 14 days of the class no date changes can be made under any circumstances. However, you can send someone else in your place. When the recipient redeems their gift card, please let us know your dietary requirements and allergies in advance, to ensure the class is appropriate. Here is a guide to help you.