Sweet and Savoury Pastry Cookery Class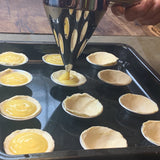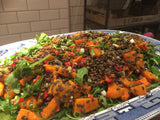 Select a class from the dropdown list below (please double check the date before booking):
Buying this as a gift? Add the recipient's details in the notes at the checkout.
You can download and print our gift card certificate and fill in the details to give something tangible. Please note we don't send out anything in the post, it is all digital.
Don't know whether they'll be able to make the date? Why not look at our
Gift Cards
page?
Ts & Cs apply, please read the checkout page fully.
Sweet and Savoury Pastry Course
In this new cookery class we show you how to master the making of two classic pastry types: Shortcrust Pastry and Puff Pastry. Using the shortcrust pastry technique we will create our savoury dish, an impressive asparagus and smoked trout tartlet finished off with quails eggs.. For our sweet dish we will learn how to make puff pastry from scratch and have enormous fun making Pastel de Nata, also known as the famous Portuguese Custard Tart. Utilising your new found pastry skills you'll create a dinner party worthy main accompanied by a flavoursome salad and enjoy eating your Pastel De Nata with coffee at the end in this fun Mediterranean cookery class.
This class explores Portugal's favourite delicacy: the Portuguese custard tart, also known as Pastel de Nata, which has taken London by storm in the last few years with pop up bakeries specialising in producing only this rich flaky treat.

Let us guide you step-by-step through the surprisingly simple method to create your very own puff pastry from scratch, and rich, cinnamon infused custard filling complete with those trademark scorch marks on top.
Our pastry cookery course will also cover how to make a savoury smoked trout tartlet, straight from the French kitchen accompanied by a flavour filled butternut squash and lentil salad with soy vinaigrette to create a delicious meal to whet your appetite for a trip to Southern Europe.
Both are great fun to bake and ideal for impressing guests at those parties we look forward to hosting once again!
Sample menu:
Smoked Trout and asparagus Tartlets

Roast Butternut Squash, Rocket and Puy Lentil Salad
Pastel de Nata (Portuguese custard tart)
Like all our London hands-on cookery classes, our Sweet and Savoury Pastry cooking courses include all food, equipment, and unlimited specially selected red and white wine and soft drinks. You will cook around our oak banquet table and enjoy eating all your dishes together in the most sociable way in London. Check out our TripAdvisor page for reviews.
Please note these classes are not suitable for adapting to different dietary requirements such as gluten free and vegans. Please email or call before booking if you have dietary requirements or allergies to check it is suitable.
To check whether this class is suitable for you, please see our Dietary Preferences and Allergens page - even if we stay it can be made suitable, please do always still let us know your dietary requirements or allergies when booking.